It's our birthday this month! We are happy to be celebrating 6 years of UK Virtual with 25,343 flight's and 25,492 hours flown to date. To celebrate we are running a competition where the top prize is a trip to Amsterdam! All you have to do is complete the task's on our "bingo grid" to be entered into the competition, one prize per pilot. The competition run's till the 30th October 2017 so you have plenty of time to complete the tasks, some of them can be doubled up with some forward planning! Full details along with the terms and conditions can be found below:
The Competition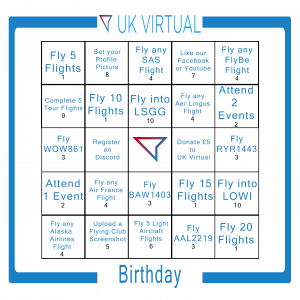 Like bingo all you have to do is complete the tasks to fill in a line either horizontally or vertically, the more lines you complete the nearer you get to that top prize. The prizes are as follows:
Prizes:
Full House = Return flight's to Amsterdam and entrance to the Natonal Aviation Museum
Four Lines = FS2Crew – PMDG 747 QOTS Version
Three Lines = A2A Aircraft
Two Lines = FSFX Packages 737 / 777 / 787 Immersion and Chase Plane
One Line = Aerosoft Mega Airport scenery, UK2000 scenery
Only one prize per person can be won, in total there are 11 prizes to be won over the course of the month, winners will be announced on the 31st October. Now for the rules regarding the tasks, each are numbered to correspond with the grid:
Rules
One Prize per pilot can be won.
Only pilots who are members before the 1st October are eligible for the competition
Return flight's to Amsterdam from airport's within Europe only.
1 – Fly any flight's to achieve these goals, all flight's must be above 15 minutes in length and be accepted
2 – You must attend and complete the event to complete this task
3 – You must have this flight accepted before this task is completed
4 – You can fly any schedule from the available routes for each airline, PIREP must be accepted before this task is completed
5 – Upload a screenshot of a Flying Club Aircraft to our Discord #screenshot channel to complete this task, liveries can be found in the download section
6 – Complete and have accepted any GA flight's over 15 minutes in length to complete this task
7 – Like our Facebook Page or Youtube channel to complete this task
8 – Set your profile picture on the main website using Gravatar. Please ask a staff member if you require assistance with this.
9 – Complete 5 flight's in one tour from out range of new tour's this month
10 – Fly any scheduled flight into these airports to complete this task.
How to sign up
To register as a participant please email me at "[email protected]" Quoting "UK Virtual's Birthday" along with your name and union ID so we can keep track of your progress.
Good luck to all members, and if you have any questions please just ask us at any time!