Well another meet up has passed, now in it's seventh consecutive year! We have had a great couple of days with members from Newcastle, Edinburgh, Swindon and Liverpool joining us. For those who were unable to join us, here is what we got up to along with our next planned events.
We started the meet up with a walk up to the Berry Head VOR, the one you pass over when flying to Spain (Berry Head mate) There is a cafe up near the VOR serving a lovely breakfast. This was well needed after the brief ten minute walk due to the high winds and storm that hit the coast of the UK that morning. Unfortunately our umbrellas didn't last the walk: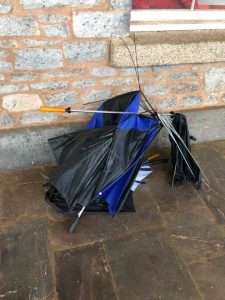 After this we headed into the centre of Paignton for the escape rooms. We split into two teams, with the first team heading off to escape while the second enjoyed a few drinks in the local Spoons, then we swapped over. The first team managed to escape with three seconds to spare! While the second had over ten minutes left when they escaped. As a reward the first team enjoyed a surprise meal of Mussy Peas, Garden Salad, Roasted Vegetables and Peas ordered via the weatherspoons app by the second team. Surprisingly they ate the lot !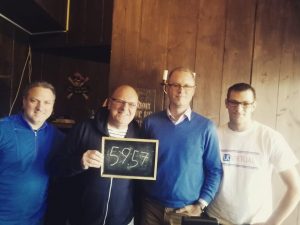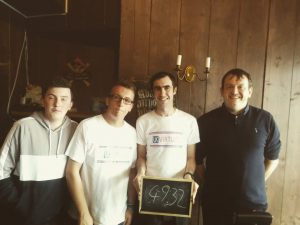 The day ended with a lovely meal at Mike's house along with a few games of table tennis and a controversial game of Cards against humanity! We took a group photo late that evening, some members missed the memo to "smile"  naming no names…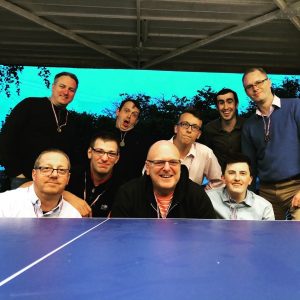 We have had an excellent few days at our meet up, a big thankyou to Mike Freeman for his hospitality and hosting, and we do hope all the members enjoyed joining us in Exeter this year. We already have two planned opportunities to meet up this year and next, further details will be released nearer the time but for now book the time off for the below :
Flight Sim 2019 – Cosford – 4th/6th October
We will be attending the Flight Sim 2019 Show again this year, specifically for the full day on the 5th October. We will be staying in a local hotel for the evening of the 4/6th which is optional to all members, we just suggest it if you have a long way to travel. Tickets are just £10 online, and it gives you the opportunity to visit the RAF Cosford museum aswell as the Flight Sim Show. Further information will be released in a few months time, however tickets can be purchased online here : http://www.flightsimshow.com/
Real World Meet up 2020 – Manchester – 4/6th June 2020
We will be returning to Manchester after a 4 year absence! Plans are in their infancy for now, however make sure you book the time off work ready to attend next year!