We have just wrapped up our UK virtual members meet up 2021 live from Manchester! If you were not able to join us in person, or on Discord then we have condensed everything from our presentation in the email below.
A Brief history
UK virtual was founded back in 2011 by UNI101 Si and UN103 Daz. Originally started as just a prop hops VA it soon developed into UK virtual with UNI149 Kieran joining the team. UK virtual was originally started off the backend of another VA, Liverpool virtual, which closed down in 2010. WIth the ethos of a community for friends to fly together, UK virtual was born. 
Over the years UK virtual has been building and expanding to where we are today. We've had over 2000 pilots come and go with a strong base of 200 members flying each month. Collectively our members have completed over 65,000 flights and 110,000 flying hours. For context in 2016 we offered 57 airlines with around 8000 schedules, today we offer over 175 airlines and over 40,000 schedules!
Now onto the main event…
Airline Big Update
Due to the pandemic airlines have accelerated their fleet renewal and retirements at an incredible pace. In addition there have been base closures and opening, route changes and subsidiary changes. Therefore all our airlines now require a full update to reflect the changes in each airline which is anticipated to take at least six months. At times some airlines will be temporarily unavailable. And the update has already started with Aegean, British Airways and American Airlines all complete! And with each updated airline comes the addition of the following new features:
Seasonal and All Year schedules
Our first new feature is the addition of seasonal and all year schedules. As each airline is updated you will be able to see whether a route is operated all year by the airline or just during the winter/summer season.
Schedules that are seasonal are still available to be used at any time, this update is to inspire and inform your choice when booking a flight. This information will be displayed on the terminal page when making a booking.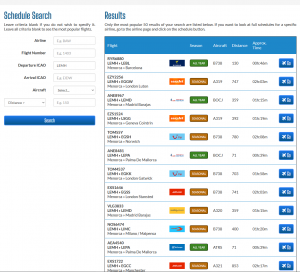 Airline Alliances
Most of the largest carriers in the world are part of different alliances, for example One world or Star Alliance. These will now all be displayed on the terminal page if the airline is part of an alliance.
In addition some airlines have more than one airline under their name, for example the Lufthansa Group. These will also be displayed on the airlines page. This update means American Regional feeder airlines like American Eagle are now being added to the database!

Tracker Updates
We have improved the stall logic within the flight tracker therefore we should see a reduction in false stalls. We have also changed the connection lost audio warning to sound once a minute.
But our biggest update is a new feature called "multileg" This enables you to start a VFR flight and drop into as many destinations along the way without having to restart the flight tracker on each leg. 
For example EGGP – EGCC – EGBB – EGGW would now be entered into the tracker as EGGP-EGGW and all landing rates along the way will be recorded.
Finally if you perform a go around and touch the ground before initiating, that landing rate will now be recorded and your final landing rate will be once you make it on the ground.
Tours
Our new winter tours will be released later this afternoon for our UK virtual supporters. There is a great mixture of prop and jet tours taking you to all corners of the globe! And for the first time all our VFR tours have been created by UNI1779 Oliver.
Over the years we have been asked on numerous occasions about previous tours that are no longer available. So from November we will be re-releasing some of our old VFR tours exclusively for our UK virtual Silver and Gold supporters.
These tours will always be available with no close date, and all further VFR tours will be added after each tour refresh. This is a new opportunity to explore some tours from as early as 2011 and add some more awards to your profile.
There is also a refresh of the tours page coming up making it simpler and easy to find the tours you wish to fly.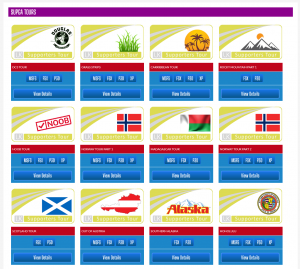 Vatsim Training
UNI1779 Oli has been busy developing some training material to help our members unfamiliar with the vatsim network. This will include getting started guides for the network and some crib sheets to help you along the way.
These will all be available from November 2021 in our downloads section, and from next month UK virtual members will be staffing up a different UK airport from radar to ground. These evenings are designed to help members start flying on the Vatsim network with familiar faces.
It's time for a subtle change
To mark our tenth anniversary at UK virtual we are pleased to announce a subtle change to our logo along with a brand new livery. Both designed by UNI1914 Ali, a full livery refresh will be available on the downloads section by the end of the month.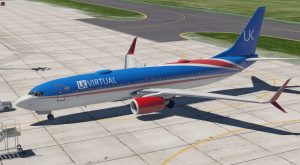 Events/Dates for your diary
VFE DAY 2022
Saturday 26th February 2022
You have the opportunity to fly in both the 737 Simulator and Piper Seneca simulators at VFE. Along with lunch in a local pub and evening stay the night before optional, you can join us for £90 for the day with a small deposit required. Invitations sent out soon!
UK VIRTUAL MEET UP 2022
Please join us for our next members meet up in Central London between the 8th/10th May 2022. Invitations sent out at the beginning of 2022, book the date of now!
HALLOWEEN 2021
31st October 2021
Join us for a Spooktacular group flight as we go searching for Vampires in Transylvania! Departing from London Luton at 1900z we will head towards Romania landing in Cluj-Napoca Airport at 2100z
The challenge for this flight is to dress up as the best/scariest vampire and join us on Discord live for the flight. The most convincing vampire will win an extra special spooky prize!
Feedback/Ideas
We are always welcome to any feedback or ideas from our members at UK virtual no matter how small you may think they are. Just drop us an email any time at [email protected]
Conclusion
That's it! We are really excited about the projects we have been working on above and look forward to another 10 years of operations at UK virtual! Thank you for your continued support, and we look forward to flying with you again soon.
The UK virtual team